Now in our fifth decade at the forefront of naval architecture and yacht design, our team continues to create the most dynamic and cutting-edge designs in both sail and power sectors.
Founded by Rob Humphreys in 1974, our team at Humphreys Yacht Design has quickly grown from its racing roots into a leading international design studio, forging a spectacular path in both sail and power. Now with Tom Humphreys as co-director, his highly-qualified technical capabilities, discriminating standards and great attention to detail has augmented and underlined the HYD team's already stellar reputation in both performance and leisure spheres.
Multi-generational, multi-skilled and multi-disciplined, HYD is more than a family business. Our commitment is to delivering optimum performance and efficiency, safety and manageability, and it's is why we enjoy a reputation that speaks for itself.
Beyond design, our research, innovation, analytical tools and evaluation facilities drive our knowledge and understanding of the latest materials, equipment and hydrodynamic interactions, uniquely empowering us to push boundaries across disciplines for all our clients.
A legacy of world championship winning racing yachts, award-winning motor yachts, over 100 successful circumnavigations and innumerable trans-oceanic crossings, Humphrey's designs have been there, at the leading edge. The acquired knowledge and feedback that flows out of all this helps support our determination to keep shaping the cutting edge.
And now, as the global economy wakes up to the challenges and opportunities of a more sustainable future, our innovative and efficiency-rooted approach has seen us collaborate with forward thinking companies and individuals alike.
Rob Humphreys
Founder
Rob Humphreys founded Humphreys Yacht Design in 1974 and developed the company from its racing yacht roots into one of the leading international design studios, in terms of both sail and power. Reinforcing his vast Naval Architecture experience he has a degree in Industrial Design and has been product-oriented from day one. Rob has served as a member of the ORC's International Technical Committee, the RORC's General Committee and Technical Committee, the Whitbread Rules Committee, and when the America's Cup transitioned from Twelve Metres he was Chairman of the Designers' Group in the crucial IACC formation session.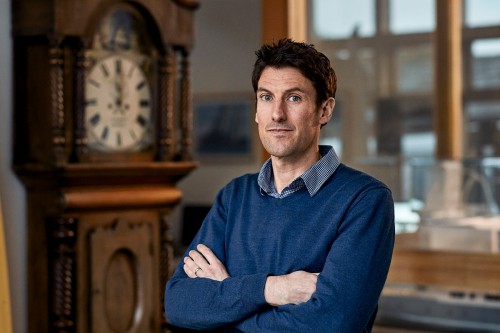 Tom Humphreys
B.Eng. C.Eng. FRINA
Tom, as a Director and co-owner of HYD, not only represents a second generation but has given the company a big step up in terms of technical capability. With a First-Class B.Eng. degree in Yacht and Powercraft Design, Tom adds an academic grounding to his own practical experience. Whether working in the sail or power sector, he ensures that the company's conceptual base is strong and the detail execution is to the highest standard. Tom is a Chartered Engineer and Fellow member of the Royal Institute of Naval Architects and has been a member of the RORC Technical Committee since 2012.
Duncan Fawkes
I.Eng MRINA
Duncan has over 30 years' experience within the marine industry. From studying Yacht and Powercraft Design at Southampton Institute, he has worked for some of the country's leading boatbuilders, shipyards and design offices. For the last 20 years his work has focused on the superyacht sector, in the role of Naval Architect. He has worked on many large sailing yacht and motor yacht projects from concept development to final production.
Outside of work, Duncan's interests don't stray far from the water. Whether it be swimming, kayaking, surfing or sailing, the water is where the fun is. He also enjoys learning practical skills and is currently involved in the restoration of a classic wooden sailing yacht.
Martin Chambers
B.Eng
Martin graduated with honours from the Australian Maritime College in 2012 and has worked in a mix of commercial, defence, and leisure industries since. He has worked extensively on high speed aluminium power craft and been involved with all aspects of design from structures through stability. After moving to the UK in 2016 for what was originally supposed to be a 2-year secondment, Martin chose to stay abroad and now lives in the UK permanently. While not at work, Martin likes to spend his time mountain biking, walking his dog and playing ice hockey.
1973

First design launched Quarter Tonner 'Midnight Special'.

1974

Robert Humphreys Yacht Design is founded

1979

31ft 'Roller Coaster' second at Half Ton World Championships.

1981

'Gem' top production boat prize in Micro Cup.

1984

'Flash' second in Half Ton World Championships.

1985

'Jade II' wins One Ton world championships & member of the British Admirals Cup Team.

1987

Appointed member of the International Technical Committee of the Offshore Racing Council (1987 -95)

1987

One Tonner 'Juno' winner of the Fastnet Cup; member of the British Admirals Cup Team.

1988

Designer for Peter de Savarys Americas Cup Challenge & Chairman of Americas Cup rule design group.

1989

Ultra class formed in the UK. This fleet was a televised series on mainstream TV.

1989

Ultimate 30 'Flyer' winner of Ultimate Yacht Race in US.

1990

'Rothmans' finishes 4th in the Whitbread Round the World Race

1990

'Apriori' and 'Old Mother Gun' member of winning British team in IMS European Championships.

1990

Member of the Whitbread Offshore Council, developing the Whitbread 60 Rule.

1993

'Cyrano de Bergarac' 128ft Cruising Ketch wins Showboat International 'The Most Innovative Yacht of 1993'

1994

Gib'Sea 414 voted 'Le Bateau de L'annee 1995' at the Paris Boat Show.

1994

Whitbread 60 Dolphin & Youth

1995

'Fremantle 8' awarded 1995 Australian Sailboat of the Year by Modern Boating & The Australian Boat Building Federation (2).

1995

'Megalopolis' wins 3rd consecutive ISORA Championships.

1996

Prefix™ developed by Humphreys Yacht Design wins Innovation award at the British Nautical Awards.

1997

Oyster 56 sells eleven units before launch - an Oyster record.

1997

'Ocean Phoenix' (Phoenix 77) wins Heineken Regatta in St Maarten and is voted UK Yacht of the Year.

1999

HOD 35 'Zarafa' class winner of UK IRC National Championships

2000

Oyster 53 wins Yacht of the Year award (UK).

2001

Rob becomes part of the GBR Challenge design team

2001

Ellen MacArthur and her Open 60 'Kingfisher' finish second in the Vendee Globe.

2001

Twelve boat fleet of Humphreys designed BT Global Challenge boats successfully complete the 2000_01 race.

2002

Ellen MacArthur wins the Route du Rhum on IMOCA 60 Kingfisher

2006

Tom starts full time at HYD after graduating in Yacht & power craft design at Solent University

2007

Jo Humphreys initiated a major advance in Oyster interiors with the Interior Design of Oyster 655-04 Roulette, influencing future Oysters.

2008

'Ermis 2' wins Showboat award most Innovative Yacht & International Superyacht Society 'Best Power Yacht'

2008

Team Russia Volvo 70 'Kosatka' for the 08-09 Volvo Ocean Race

2008

Toms first commission, Oystercatcher XXVI, wins Class 1 at Cork Week

2011

Oyster 885 Hull 1 Launched

2011

Elan 350 wins European Yacht of the Year

2012

Oyster 625 wins Best Bluewater Cruiser, Asian Yacht of the Year Award & European Yacht of the Year award.

2013

Azuree 46 designed for Sirena Marine launched.

2014

HYD's Interior division carried out a complete interior refit design for a classic 58m motor yacht.

2015

Class 40 'Credit Mutuel de Bretagne' wins The Normandy Channel Race

2015

Oyster 825 'Maegan' wins her class at the Superyacht Cup, Palma

2016

'Tempus Fugit' Tempus 90 design for Arkin Pruva Yachts wins her class at the Superyacht Cup.

2016

Azuree 41 designed for Sirena Marine launched.

2018

Elan GT5 wins Best Midsize Cruiser for Cruising World Magazine.

2018

HYD commissioned by Arksen for Naval Architecture and Exterior Styling of range of Explorer Vessels

2019

Oyster 565 wins Bluewater Cruising Award at the British Yachting Awards.

2019

Oyster 1225 launched

2020

Elan GT6 Launched

2021

First Arksen 85 sold

2021

Oyster 595/01 Launched

2021

HYD 50m Custom Explorer Vessel - Build commences at JFA, France

2023

Oyster 495 wins European Yacht of the Year Award 2023; Luxury Cruiser

2023

Arksen 85 'Project Pelagos' is launched in Cowes, UK.
European Yacht of the Year Award 2023 - Oyster 495 WINNER - Luxury Cruiser
Red Dot: Product Design 2022 - Elan E6 - Winner
Sailing Yacht International Yacht & Aviation Awards 2022 - Elan E6 - WINNER
European Yacht of the Year Award 2021 - ELAN GT6 - NOMINEE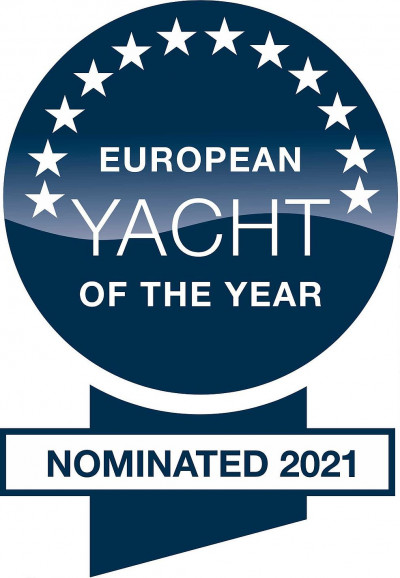 From Elan Yachts:
Our groundbreaking new flagship model, the 49ft Elan GT6, has been shortlisted for the international boating industry's most prestigious awards – European Yacht Of The Year.
Designed to be easily handled by a couple, yet capable of exhilarating performance across a wide range of wind and sea conditions with a thoroughbred 'feel' at the helm, the GT6 is optimised for fast, medium-range offshore passage-making. Its hull, drawn by Humphreys Yacht Design, combines race-derived features with the ability to carry a full cruising payload. As its name implies, the GT6 is a seagoing Grand Tourer.
Above the waterline, the GT6 is the first ever sailing yacht designed and styled by Studio F. A. Porsche, with an elegant silhouette and iconic good looks that will turn heads in any marina. Key features include a next-generation ergonomic cockpit with gull-wing helm pedestals and a fully flush foredeck.
Below decks, Studio F. A. Porsche's interior design flair brings game-changing levels of comfort and luxury to Elan's new flagship model, while preserving the practicality of the boat as a family cruiser. Premium materials are used throughout, showcasing the fine craftsmanship of Elan's artisan shipwrights.
'We're delighted that our innovative new flagship model has been nominated for the European Yacht of The Year Awards,' says Marko Škrbin, head of the Elan Yachts shipyard. 'The Elan GT6 offers a unique combination of style, speed, comfort and easy handling that's ideal for fast-paced yet relaxing family cruising.'
European Yacht of the Year Award 2020 - IMPRESSION 45.1 - NOMINEE
European Yacht of the Year Award 2020 - OYSTER 565 - NOMINEE
British Yachting Awards 2019 - OYSTER 565 - WINNER BLUE WATER CRUISER
Oyster 565
The Oyster 565 enjoyed a long gestation period, with the plans initially unveiled back in 2016. The wait has been worth it and this British designed and built bluewater thoroughbred is the winner against a heavyweight line-up of bluewater yachts. Her lines were penned by Rob Humphreys, who has created a luxury yacht that a couple could handle easily themselves, cruising around the world in some comfort. The boat seems to signpost the way to a bright future for Oyster Yachts, which was taken over last year by new owner Richard Hadida. Oyster calls the 565 its 'pocket superyacht'.
Cruising World Award 2018 - OYSTER 745 - WINNER BEST LUXURY CRUISER
Best Luxury Cruiser
It's a rare year that the Boat of the Year contest boasts a pair of yachts with price tags of $4 million, but for the big bucks, the Oyster delivers big time.
By Herb McCormick (December 12, 2017)
It's a rare year indeed that the Boat of the Year contest boasts not one but a pair of yachts with price tags north of $4 million. And in many ways, the two boats that fit that bill for 2018 could hardly be more different, one being an exquisite monohull and the other a no-holds-barred catamaran. But they both shared some similarities, including being set up to be run and operated by a professional crew. In fit and finish, they are both examples of state-of-the-art boatbuilding and technology, which is why the HH 66 and the Oyster 745 vied for the title of Best Luxury Cruiser.
Perhaps the most intimidating — yet cool — yacht in the competition was the amazing all-carbon HH 66 cruising catamaran. Judge Tim Murphy said, "It displaces less than 40,000 pounds and, with the exception of the Stiletto, had the lowest displacement-to-length ratio in the whole fleet, at 61. It's a boat where they talk upfront about flying hulls on a cruise-worthy catamaran. Along with foiling, that's a rather new thing — to go out there and fly a hull on purpose — in the way we sail our boats. And the build quality was just gorgeous."
In around 10 to 12 knots of breeze during sea trials, the HH 66 trucked upwind at 12 knots. "I didn't know that sailing a 66-foot performance cat with a tiller was on my bucket list, but I've now added it to my list and checked it off," said Bill Bolin. "It's a very impressive boat, very high tech." Among the features in the molded helmsman seats are push-button controls for the mainsheet,
traveler and daggerboards. To have instant access to critical sailhandling and boathandling tools at one's fingertips is truly remarkable.
"The tiller is light and easy. It really responds to every move you make," said Ed Sherman. "That was a treat. This is a systems-rich boat, and the systems work great. It's truly a boat for a pro crew — and one that knows what it's doing and has a lot of experience. But without a doubt, it was the boat I had the most fun sailing in the entire fleet."
The HH 66 blew the judges away with its superb sailing performance.
The HH 66, however, had a worthy adversary in the Oyster 745.
"This boat absolutely blew me away for a lot of reasons," said Sherman. "It was an extremely complex boat. It's got a day generator and a night generator. It's a big shaft-drive engine setup with a lot of systems. But when you climb down into the engine room, all the primary systems are located around the perimeter of the space, with really great access. So there are no problems with that."
"This boat is beautifully built, nicely engineered, and the systems were good and accessible," said Bolin. "I think you do need a pro crew. It's not a couples cruising boat. You need someone to take care of it, maintain it and even sail it for you as well. That being said, the crew's going to be pampered. There's a beautiful crew cabin forward. I also made a note that this was the first boat with a real companionway that wasn't a ladder. It was a stairway to heaven. Plus, the speed and manoeuvrability surprised me. It felt good. It was easy to move around on deck and below, and very comfortable. I'd like to spend more time on it."
"It's a fundamental piece of the boat's DNA to have professional crew," added Murphy. "With the quarters the boat provides, they'll attract top talent. We've seen a lot of Oysters over the years, and I think we've found the boat where the company really knows where its feet are and hits the sweet spot. It's a little bit out of Cruising World's target, it's the extreme top end of what we're looking at, but I think they've done a spectacular job."
Murphy's mates agreed, and they unanimously named the Oyster 745 the Best Luxury Cruiser for 2018.
Cruising World Award 2018 - ELAN GT5 - WINNER BEST MIDSIZE CRUISER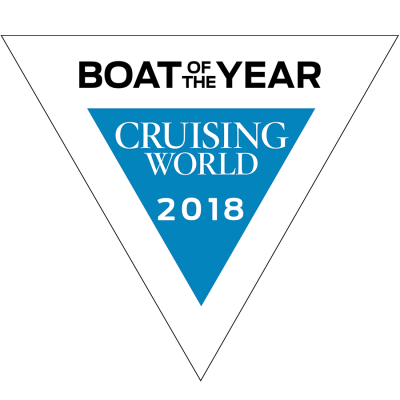 Winner: Elan GT5
This is going to be a tough category," said Bill Bolin of the Best Midsize Cruiser 40 to 44 Feet division. "We have three very different but very good boats in this class — the Elan GT5, the Hallberg-Rassy 412 and the Jeanneau Sun Odyssey 440."
To begin, Bolin said of the Jeanneau Sun Odyssey 440, "It's the best Jeanneau I've ever seen." The judging panel agreed, crowning the boat the fleet's Most Innovative design for 2018.
And what, exactly, led to that designation? "One big reason is the side decks," said Tim Murphy. "One of the design features is wide-open side decks all the way aft" that permit easy egress going forward without the need to scramble over cockpit coamings. "It's a clean path ahead," he noted. Imitation being the sincerest form of flattery, it's something we expect to see on more boats, including a scaled-up Jeanneau 490, in the very near future.
"You go down below and, maybe for the first time, Jeanneau has separated the mast compression post from the main bulkhead," he added. "Now there's just a compression post that runs down into the main saloon, and the main bulkhead that would've come to that position is now several feet forward. So they've opened up more space in the main cabin and taken it away from the forward cabin, where they're arguing you don't need it quite as much. I think that's also a fine change. It has twin rudders, and under sail, I thought the helm was beautiful. It's a solid boat."
The Jeanneau Sun Odyssey 440 features wide-open side decks that are carried all the way aft to permit easy passage going forward.
So, too, thought Bolin, was the Hallberg-Rassy 412. "This is the largest aft-cockpit model Hallberg-Rassy has built," he said. "There is a 40-foot center-cockpit model, but this is a different hull entirely, optimized for upwind performance, with a code zero sail for downwind work. There's a retractable bow thruster — we saw a lot of those this year — to reduce drag and get the thruster deeper in the water and farther forward as well. The boat we inspected had upgraded sails, and when we went sailing, they were spectacular. There was a beautiful full-battened sail and the boat sailed very well.
"It had a slippery hull and moved nicely," he added. "We sailed it in 12 to 14 knots of breeze, so there was decent wind. Most of the time we were making 6.5 to 7 knots. As we fell off on a beam and then a broad reach, I think this was the first boat where we didn't see a drastic drop in speed. It performed well on all points of sail. It had a nice big wheel and great visibility forward. It would be an easy boat to singlehand. I really like it."
"This is a mainsail-driven boat, and I think that might explain why it's so peppy off the wind," said Murphy. "So the sail plan is a small jib with a big main. They're one of the few remaining builders that are giving us a true traveler but also genoa sheet-lead controls from the cockpit, showing that they're concerned about sail shape, and rightly so. Going down below, it's the classic Hallberg-Rassy mahogany interior, and it's just lovely, as lovely as it ever was. We've talked about good handholds, but on this boat, they weren't just good, they were also beautiful. The fiddles are these beautiful rounded shapes that are perfect for your hand. They look great and feel great. Very nice."
That left the Slovenian-built, 43-foot-4-inch Elan GT5. The company builds dedicated lines of racing and cruising boats, but, said Murphy, "The GT5 is sort of a hybrid between those two lines. It has a high-performance hull and a very comfortable cruising interior.
The full-battened sail on the Hallberg-Rassy 412 helped deliver stellar sailing performance to the Swedish-built cruising boat.
"Sailing it was pretty joyful," he continued. "We sailed in very light air and it was still moving very nicely. It looked really good on the water. It really seemed to have answered the performance side of Elan's DNA."
"The company is doing some progressive things in terms of systems," said Ed Sherman. "The electrical system on the boat has a nice, graphically designed power distribution panel with push buttons that light up things to let you know, for instance, that the running lights are on and that sort of thing."
"I was really taken with this boat," said Bolin. "It looks like a race boat from a distance, and as Tim mentioned, its DNA is rooted in that. But you go below and it's very unique, with lots of special features. I like the galley-forward arrangement a lot. You come down into the main cabin and you've got max beam where the living quarters are, you have a great sense of entry. Figuratively speaking, you're not walking through the back door and the kitchen to get into the house. I think this layout makes very good use of space. And there's lots of storage. Finally, I'd say it's a high-tech boat, vacuum-bagged with 100 percent vinylester. There's a lot to like about it."
At the end of the day, Bolin's colleagues agreed, which is why they chose the Elan GT5 as the Best Midsize Cruiser 40 to 44 Feet.
European Yacht of the Year 2012 - OYSTER 625 - WINNER BEST LUXURY CRUISER
European Yacht of the Year 2011 - ELAN 350 - WINNER PERFORMANCE CRUISER
International Superyacht Society 2008 - ERMIS 2 - WINNER BEST POWER YACHT 24-40m