Smart Green Shipping joins forces with NTS as part of environmental shipping initiative
— 05 Jun 2023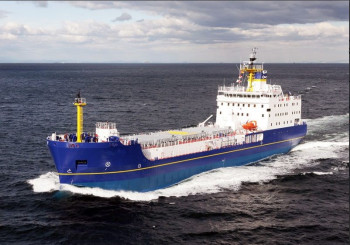 Smart Green Shipping joins forces with NTS as part of environmental shipping initiative
June 1, 2023:
Smart Green Shipping (SGS) is delighted to announce their collaboration with Nuclear Transport Solutions (NTS) as part of the 'Winds of Change' project which held its first in-person kick-off meeting on Wednesday May 3rd at the University of Southampton. 'Winds of Change' is a deeply collaborative 2-year project to assess technical, commercial and environmental viability of using 21st century wing sail designs to provide direct thrust to commercial ships.
NTS is the leading global provider of safe, secure and reliable nuclear transport solutions that make the world safer and more sustainable. As part of the UK's Nuclear Decommissioning Authority, NTS uses its specialist transport and logistics expertise to help customers and partners around the world solve complex challenges.
The Pacific Grebe is one of a fleet of three specialist vessels in the Pacific Nuclear Transport Limited (PNTL) fleet. The fleet, over its history, has safely covered millions of miles shipping a range of nuclear materials to the likes of Japan, Europe and USA.
Di Gilpin, SGS CEO, said: "To have the opportunity to work with such a highly specialist ship and her deeply knowledgeable crew and managers gives us an excellent opportunity to demonstrate the feasibility of retrofitting SGS FastRigTM wingsails onto ships with the highest safety standards. If we are successful this will give comfort to shipowners and managers that this technology will not compromise their strict safety protocols.
"Testing the FastRig on land initially ensures we iron out any technical glitches before installing on a working vessel. We are honoured to be able to work with NTS. Our commercial project partners, Drax and MOL Dry Bulk are working with SGS and NTS to define parameters for sea trials; our technical team includes Humphreys Yacht Design, designers of the FastRig; Caley Ocean Systems and Malin Group, FastRig manufacturers and Houlder who take responsibility for the ship to wing interface. The University of Southampton is working with SGS on verifying real world performance results against the mathematical modelling that predicted between 16% and 27% fuel/GHG savings over an annual period."
Andy Milling, Marine Manager, at NTS said of the collaboration: "As owners of UK-flagged, high-quality specialist vessels, we are committed to support UK shipping net zero initiatives. We are looking forward to working with SGS to address the highly complex technical challenges that arise from retrofitting wind-assist technology onto merchant vessels.
"Our motivation is to reduce vessel emissions whilst maintaining our high performance and critical delivery schedules. SGS has convened a group of highly experienced technical and commercial organisations to deliver the project and its exciting to see how we will implement this technology with safety, security and reliability remaining our top priorities."
Smart Green Shipping is a systems design and engineering company based in Dumfries that is developing unique retrofit sails and technology for sustainable commercial ships. It collaborates with the University of Southampton, Humphreys Yacht Design, Houlder, Malin Group, Caley Ocean Systems, Argo Engineering, Lloyd's Register, MOL DryBulk and Drax. The 'Winds of Change' project will run from April 2023 to March 2025. SGS is currently installing a land-based test and demonstration FastRig at Hunterston Parc in Scotland. The learning from this project informs the safety, technical and performance parameters for the on-ship installation scheduled for2024.
The 'Winds of Change' project is part of the Clean Maritime Demonstration Competition Round 3 (CMDC3), which was announced in September 2022, funded by the Department for Transport and delivered in partnership with InnovateUK. As part of the CMDC3, the Department allocated £60m to 19 flagship projects supported by 92 UK organisations to deliver real world demonstration R&D projects in clean maritime solutions. Projects will take place in multiple locations around the UK from as far north as the Shetland Isles and as far south as Cornwall.
The CMDC3 is part of the UK Shipping Office for Reducing Emission's (UK SHORE) flagship multi-year CMDC programme. In March 2022, the Department announced the biggest government investment ever in our UK commercial maritime sector, allocating £206m to UK SHORE, a new division within the Department for Transport focused on decarbonising the maritime sector. UK SHORE is delivering a suite of interventions throughout 2022-2025 aimed at accelerating the design, manufacture and operation of UK-made clean maritime technologies and unlocking an industry-led transition to Net Zero.
Notes to editors:
Smart Green Shipping (SGS) was formed in 2014 by Diane Gilpin to develop physical and technical solutions to reduce emissions from the global shipping industry and brings together a team of specialists with backgrounds in shipping, high value manufacturing, data science and finance. The company works across the shipping ecosystem from ship owners, operators to investors and cargo owners to design environmentally, commercially and technically viable ships.