Maegan triumphs at the Superyacht Cup
— 14 Sep 2015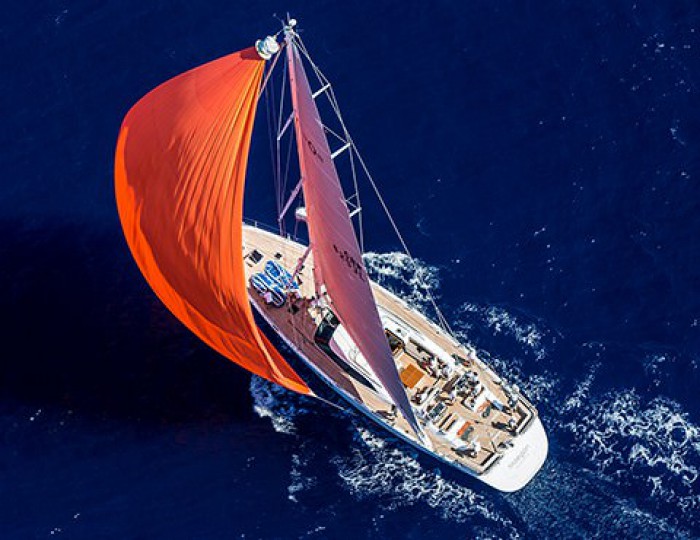 The Humphreys-designed Oyster 825 'Maegan' wins her Class at the Superyacht Cup and finishes 2nd overall in the fleet.
After three glorious days' racing in Palma Bay, each with a solid sea breeze creating an ideal racing arena which offered no hiding place for anyone, the new Oyster 825 was able to demonstrate a side to its personality that would not have been anticipated by the legion of pro-sailors that orchestrated their carbon Superyachts around the track. The 825's core value is still wholesomely 'Oyster' with serious blue water capability at its heart, but the latest design from Rob and Tom Humphreys demonstrated such regatta prowess that she won her class and finished second in the entire 21-boat fleet. Her upwind capability was outstanding, often showing the bigger, more race-dedicated Superyachts how she could hold an upwind lane that was little different in height to their own.
'Maegan', steered by owner Klaas Meertens with North Sails' Jeremy Robinson calling tactics, was consistently fast and posted a 3-1-2 score. An entirely standard 825 in all but rig and sail choice, she was competing in what was numerically the biggest class comprising yachts from Perini, Swan, Huisman, Alloy Yachts, as well as another, very new Oyster 885 'Guardian Angel'. With the class results wrapped up on the Saturday the Superyacht Cup's formula for establishing the overall fleet order gave Maegan a hugely significant second place. This podium position is a milestone for Oyster Yachts, bearing in mind the quality of the fleet and profile of the event, and is an emphatic demonstration of the way the Humphreys team is steadily refining the concept in line with the fairly open forum that is shared between Oyster's CEO David Tydeman and Rob and Tom. Significantly, only one day stood between the regatta's final race and the beginning of an intensive tank testing session on the new Oyster 118. So for the three of them, all racing on Maegan, it was straight out of the heat of Palma to the contemplative environment of the towing tank where further direction will be applied to the future of this famous brand.
The massively important Superyacht Cup result follows less than a month after the Tom Humphreys-designed Class 40 won the hugely testing two-handed, 1,000 mile Normandy Channel Race. As a combination of results it demonstrates the intensity of design thinking that fuels this successful design studio, with lessons from one environment contributing to success in another, where the 'whole' is very much greater than the sum of the parts.