Garmin Hamble Winter Series 2005
— 30 Dec 2005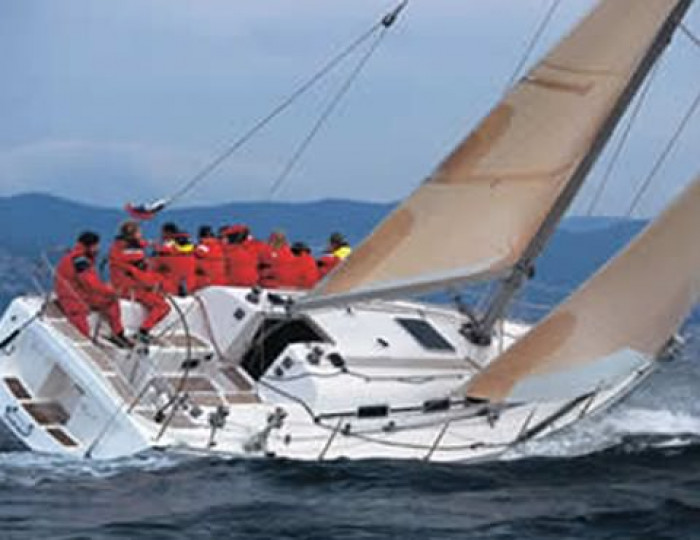 The winner of Class 2 was the Elan 40 Flair IV. The Elan 40 (pictured) was first launched in 2001 and has proved a popular class. On deck she is every inch the racing boat, with a tall rig, optimised keel and powerful deck gear capable of meeting all the demands of a racing crew.
Down below, however, she becomes a comfortable and well-appointed passage maker with berths for up to eight, up to two heads, and a spacious saloon and galley area. The success in the Hamble Winter Series of Flair VI under the ownership of Jim MacGregor only confirms the speed and versatility of this forward-thinking design.
Second in Class 2 was Quokka, an Elan 37 owned by Peter Rutter, a well-known figure on the south coast and offshore racing circuit and ex-Commodore of the RORC. The Elan 37 is another trademark Humphreys design, combining a fast hull and pleasing lines with a comfortable spacious interior. The Elan 37 has been a best seller for Elan since its arrival in 2003 and has proven itself a capable racer in events around Europe.
The third to do well in this class was the HOD35 Carpet Bagger, owned by Michael Ronson, which achieved fourth place overall. The HOD 35 is a highly regarded 35 ft cruiser-racer generally considered an excellent sea-going boat which has proved itself capable of competing under a variety of handicap systems. Following the launch of the first in 1996 around twenty were subsequently built and boats can now be found in the UK, Ireland, France and the Netherlands.
Humphreys Yacht Design congratulates all the owners and crews who did so well in this popular and challenging race series, and assures owners everywhere that it is continuing to develop new ideas for both production and custom boats that combine the very best of racing and cruising attributes.