Elan 310 takes to the water
— 03 Sep 2009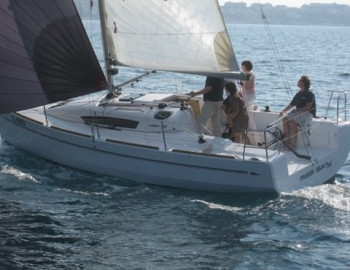 HYD and Elan Marine is proud to present a completely new entry model in the sailing boats range for year 2010. The new 310 – featuring a unique combination of twin-rudder steering and T-bulb keel, both not-so-often seen on similar sized boats – marks a giant leap forward for Slovenian boat-building company.
It is sometimes presumed that the smallest boat in a range is the least important to a Builder. But then again, it is possible to presume many other things in life that prove to be quite wrong. The new Elan 310 is a case in point – the smallest model of the Elan range it might be but it is one borne out of intense effort and scrutiny. Not only will it serve as first rung of the ladder to the Elan range – a lure to tempt new owners into on-going Elan ownership – but as a boat conceived in the economic turmoil of the global recession it is intended to serve as more than just a so-called 'starter' boat.
As such, it is a multi-dimensional project. Researched and developed with the demanding needs in mind, is at one level designed to be sufficiently easy to sail to carry the badge of beginner's boat, but at another it is sophisticated enough in its sailing qualities to convince passionate sailors that here is an affordable boat that gives them the performance and general scope they might expect to find in a much bigger and more expensive boat. For them it represents an opportunity to meet their desires now without awaiting an economic climate change to unlock their access to the bigger boat they might have thought they needed.